What's New
Non-Toxic. Biodegradable. More Powerful Than Ever.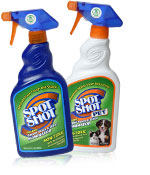 Non-Toxic Spot Shot®

The same stain-eliminating effectiveness you rely on now in a non-toxic environmentally friendly formula. Spot Shot's formula is tough on stains while being safe for use around children and pets. Certified Biodegradable by Scientific Certification Systems and approved by the Carpet & Rug Institute.
Eliminates all kinds of new and old stains
Dual odor eliminators absorb and neutralize odors
Anti re-soiling agents protect carpets
Use our Store Locator to find it at a retailer near you!